Announcing Our First Recipients
Each month, we will be giving the entirety of our donations to a different charity. Here are the first ones on our list.
We want to ensure that your dollar is going as far as it absolutely can. We've chosen five well established and productive charities for the first five months of 2018.
Announcing Our First Recipients
Here at DollarFund, we want to ensure that your dollar is going as far as it absolutely can. Our board of directors has been hard at work, curating and vetting a list of worthy recipients for our monthly donations. We are excited to share with you our first five partners.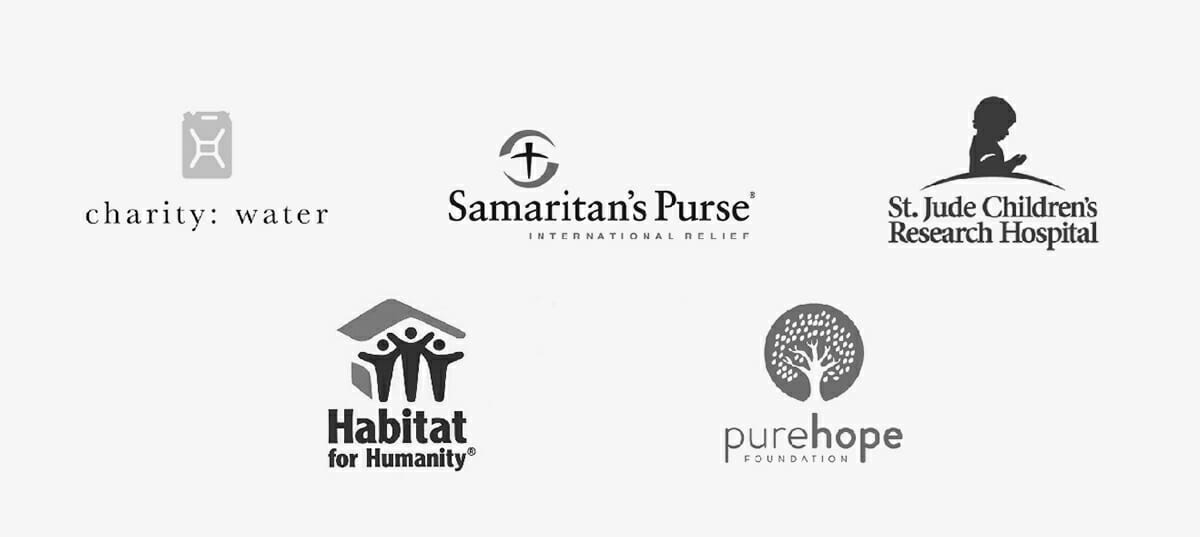 Charity Water
With a mission to end the water crisis in our lifetime, Charity Water is providing clean and safe drinking water to underdeveloped countries all over the world. 100% of the donations they receive are used to deliver clean water to communities that need it the most. To ensure sustained progress, they partner with local organizations that are familiar with the best tools and resources for delivering safe water. To find out more about Charity Water, visit charitywater.org.
Samaritan's Purse
Providing global relief since 1970, Samaritan's Purse specializes in preparedness and response. They've strategically pre-positioned storehouses all over the world, ready to respond to an immediate crisis, while also providing long-term resources like literacy and construction training. Following the example set by the Gospel, Samaritan's Purse believes the world should not be without food, water, shelter, medicine, and spiritual support. Visit samaritanspurse.org to learn more about their wide-ranging efforts.
St. Jude's Children's Research Hospital
St, Jude's has been leading the world in cancer research and treatment for children. Their open sharing platform has made it possible for other global researchers to make much needed strides in treatment and cures. St.Judes does not charge their patients or families for the treatment they receive, making them a source of unconditional generosity for families in need. Visit St. Jude's at stjude.org.
Habitat For Humanity
Possibly no one better understands the need for a strong community than Habitat for Humanity. For decades, Habitat for Humanity has been literally rebuilding homes, neighborhoods, and communities by providing construction services to disaster or poverty stricken areas around the world. They operate on a global level, though have thousands of local chapters throughout the United States.  See if you can get involved in your local community at habitat.org.
Pure Hope Foundation
Pure Hope's vision is to end human trafficking. By providing transitional homes and continued restorative development, Pure Hope assists survivors of sex trafficking in being prepared for independent living. They also offer retreats and resources to empower survivor advocates and rescuers, as well as events to help strengthen families and protect children. Visit purehopefoundation.com.